Physiotherapy
We strive to offer the most advanced and up to date physiotherapy equipment and techniques available anywhere: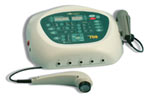 Laser Light Therapy
Laser Light Therapy is a safe, Non-invasive, painless treatment that utilizes intense light energy to facilitate tissue healing & pain control.
The Cold Laser is Cleared by the FDA, is painless, and has no reported side effects at all. It is used with incredible results for sciatica, carpal tunnel syndrome, low back pain, neck pain, headaches, arthritic pain, muscle spasm, and a multitude of other conditions. This is the same technology that the Olympic training centers and the Patriots pro football team uses, as well as many other collegiate and professional sports teams. We are excited to bring this therapy to you!
Laser Light Therapy has proven to be an effective treatment for:
Arthritis
Tendonitis
Heel Pain
Sprains & Strains
Shoulder Pain
Carpal Tunnel Syndrome
Tennis/Golfer's Elbow
Hip Pain
Knee Pain
Ultrasound
Therapeutic ultrasound is a form of deep heat therapy created by high frequency sound waves. When applied to soft tissues and joints, the sound waves are a form of micro-massage that help reduce swelling and increase blood flow. We will often us this to treat ligaments, tendons and joint capsules.
Intersegmental Traction
Intersegmental Traction mobilizes the spinal column while simultaneously and gently stretching ligaments and muscles. It increases blood flow and oxygen to discs, ligaments and muscles, thereby improving balance, strength and mobility.
Electrical Muscle Stimulation
By applying tiny electrical pulses to specific areas of your body, to control pain, increase blood and lymphatic circulation, reduce muscle spasm, relax or stimulate the nervous system or aid in the healing process. These special electrical signals release enkephalin and endorphin, two natural pain relievers.
Hydrocollator Therapy
Moist heat allows tight muscles and ligaments to relax and increases blood-flow to promote healing.
Nutrition and Exercise Counseling
Nutritional advice is gladly provided upon request.
Home exercise is an essential part of your treatment plan and advice will be provided depending on your unique situation and condition.